Corporate Computer Training
Dimensions in Productivity has provided corporate computer training since 1981. Corporate computer training can take place at Dimensions' classroom in Marlborough, MA, or at your company.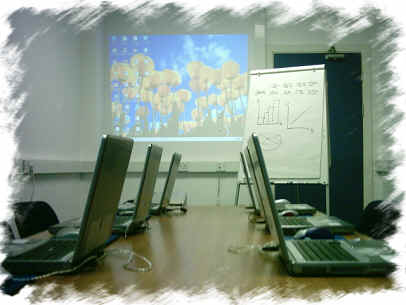 Dimensions in Productivity can customize the training session to meet your organization's needs. We encourage our corporate clients to create a pre-class "wish list" of topics to be covered in class. We can also group participants by their skill levels, through the use of pre-class surveys and needs analyses. At the end of each course, students are asked to fill out an evaluation to be forwarded to the Corporate Training Coordinator. With this feedback, you can effectively monitor course quality.
Since our instructors are also consultants, they have a great depth of technical knowledge and a wide variety of experience in providing solutions to everyday business problems.
Most classes are presented in a convenient one-day format thus minimizing out-of-work time. An alternative method of scheduling involves splitting up each class over two days so that employees are "away from work" for half days at-a-time.
Dimensions in Productivity has extensive experience in providing customer support and training to many different kinds of organizations, including:

Legal, financial, banking and accounting firms
U.S. Government agencies and contractors
Scientific and technical organizations
Academic institutions

Health and community service organizations
Manufacturing firms
Publishing firms
Pharmaceutical firms